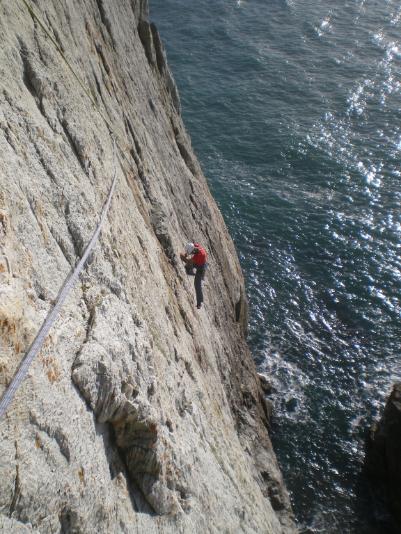 Photo: Martin Young - Trip to Wales in 2012

WCMC Climbing Wall
Members are able to to make regular use of the wall at Egremont, on a Wednesday evening from 7-9pm from September to March. A prompt start really helps the person collecting the money and enables them to have time to climb too. Prices are £5 per session (£2.50 for junior members).

You take your own risks at the wall, so if climbing is a new activity for you, you might want to do a short course at Kendal or Keswick first.
You can get your membership for WCMC at the wall if you're turning up for the first time. It is located at West Lakes Academy, Main St, Egremont, CA22 2DQ. Wall users should park in the Academy car park, sign posted from Egremont Main Street, they should then go to the main entrance to the Academy to sign in and will be directed to the climbing wall on the ground floor.
You need to bring your own gear (only ropes are provided). Don't forget your club membership entitles you to a 10% discount at Needle Sports and Cotswolds.
WCMC Outdoor Climbing Meets
Members are also able to attend outdoor rock climbing meets from April to September. These can be useful for those who want to find a climbing partner.

Those who are new to the sport and have been developing their skills on the wall can opt to go on a beginner meet where top ropes are set up at a local crag and experienced climbers are around to offer guidance and belays.

The newsletter will come out telling you more about these meets.

Each Christmas, we have a Christmas Jumper night, where members are encouraged to come and climb wearing their best Christmas jumpers and the winner is refunded their climbing fee for the night. Chocolates and biscuits were provided by Peter to help everybody to get into the Christmas spirit!
The turnout this year was excellent, and the competition was won by Karen, who even managed to climb a route in her Christmas slippers!